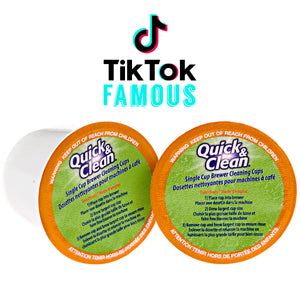 Quick & Clean™ Cleaning Single-Use Cups clean exit needle and funnel in Kcup® compatible brewers.
The descaler is formulated to break down limescale and mineral build-up which causes interruptions in your brewers' water flow.
Compatible with Kcup® Brewers
Extends life of the brewer and improves the taste of coffee
Biodegradable, odor-free, and phosphate-free solution
Recyclable plastic (based on local recycling availability)
90 per case
Instructions: Insert the Quick & Clean™ Cleaning Single Use Cup into the machine and run one cycle. After the cycle is completed, dispose of the used cleaning cup and brew one more cycle with water only. Your guests may now use the brewer!