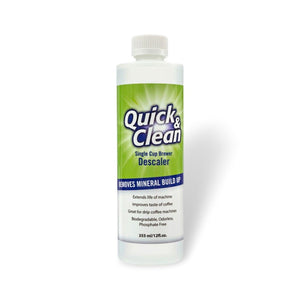 Quick & Clean™ descaler cleans the water reservoir found in Soft Pod Brewers, Single Serve Brewers, and Capsule Brewers.
The descaler is formulated to break down limescale and mineral build-up which causes interruptions in your brewers' water flow.
1 bottle, 12 oz. concentrated, cleans 24 brewers

Extends life of the brewer and improves the taste of coffee
Biodegradable, odor-free, and phosphate-free solution
12 per case
Instructions: Pour 1 cap of descaler into the water reservoir and add water to the top of the fill line. Brew a full cycle of water only. Fill the reservoir with fresh water and repeat the cycle. Your guests may now use the brewer!